QQQ's in Holding Pattern Ahead of Big Tech Earnings, NUE Positioned for a Potential Move
The tech-heavy Nasdaq 100 index, represented by the Invesco QQQ Trust (QQQ), experienced a downward trend last week as companies like Netflix (NFLX) and Tesla (TSLA) failed to meet earnings expectations. However, the market is eagerly anticipating a wave of earnings reports from big tech players such as Google (GOOG), Microsoft (MSFT), Amazon (AMZN), and Meta Platforms (META), which are slated to release their reports this week, beginning on Tuesday. As a result, the market has entered a holding pattern, waiting for the numbers to come in.
The QQQ's opened on a positive note this morning but were unable to maintain momentum, stopping just shy of the $318 resistance level. If the index can break through this level, upside targets include $320, $321.42, $323, and potentially $330. On the other hand, if the QQQ's fail to cross the $318 threshold, downside targets are set at $315, $312, and $309. A further decline below $309 would see a gap to fill at $307.12, with potential support levels at $306, $304, and $302 before reaching the psychologically significant $300 level.
In the midst of the current market conditions, caution is advised when trading, as markets appear poised for a dip. Nonetheless, the path of least resistance suggests that the market could slowly grind higher or even experience a significant spike if tech earnings outperform expectations this week.
One stock to watch closely is Nucor Corporation (NUE), which has formed a tradeable base around the $150 level. There is also room to buy more if NUE's price drops to around $150, which would be an ideal entry point to add to the position.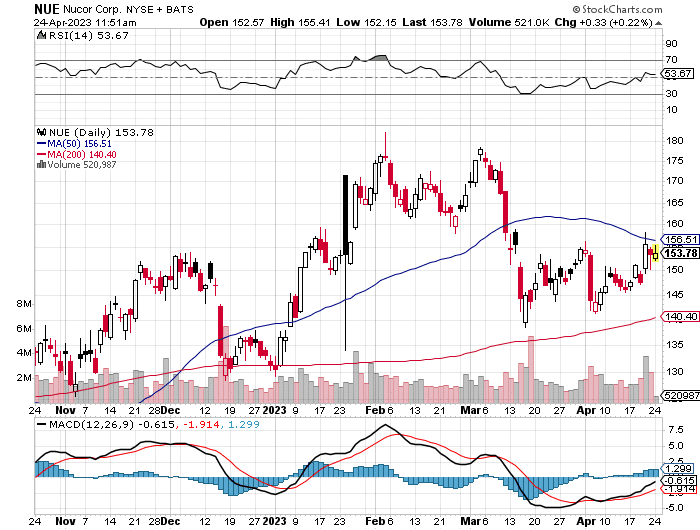 Other companies in Nucor's space includes: Reliance Steel & Aluminum (NYSE:RS), Ternium (NYSE:TX), Carpenter Tech (NYSE:CRS), Vale (NYSE:VALE) and United States Steel (NYSE:X).
This article first appeared on BioPharmaJournal.com